Free Area and Distance Calculator for Land Survey!
Our free map measuring tool is designed to help you survey land, farms or fields. It's the perfect area calculator to find the area of a plot or property and a distance calculator to track distances on a map. You can draw lines on the map or use GPS location tracking. Download & try now!
Crossed over a million downloads.
Showcase your projects.
Experience the world of measurements.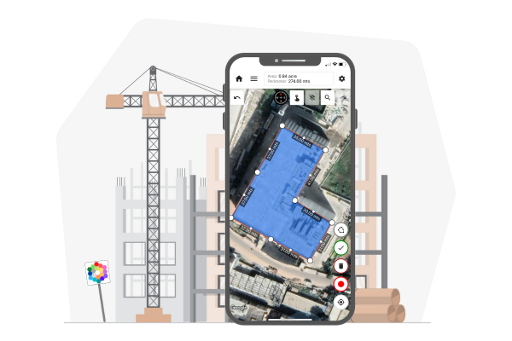 Mapulator: Everything with Maps – Advanced Area and Distance Calculator
Explore Precision Through Advanced Features in Our Comprehensive Map Measurement Services.
Build Multiple Maps
Craft and manage a variety of maps to suit your specific needs effortlessly.
Calculate Measurement Units
Accurately measure distances and areas with precision using customizable units.
Visualize with KML Support
Enhance your map experience by importing and visualizing KML data seamlessly.
Access GPS Live
Stay connected to real-time locations and navigate with confidence using live GPS updates.
Utilize Cloud Storage
Securely store and access your maps and data anytime, anywhere with convenient cloud integration.
Efficient Drawing Tools
Unleash your creativity and precision with intuitive drawing tools for personalized map annotations and designs.
Questions? We've got answers.
Stay in the loop with everything you need to know.
FAQs
---
What is Mapulator?

Mapulator is a free online tool that allows users to measure area and distance on a map. It uses Google Maps and Apple Maps as the underlying map provider and provides a variety of measurement tools.
What are the different features of Mapulator?

Mapulator features precise measurements using pin, circle, or drawing options with customizable colors. Enjoy real-time calculations, diverse map views, and easy location search, coupled with undo/redo functionality and seamless measurement sharing.
What are the different users of distance and area measurement?

Area and distance measurement tool that can be used by anyone who needs to measure distances or areas on a map. It is commonly used by individuals or organisations that need to plan routes and calculate distances or estimate the size of a specific area. This could include hikers, bikers or other outdoor enthusiasts who need to plan a route or estimate the distance they will need to travel. Area and distance measurement is useful for real estate agents and surveyors.
What are different units of distance measurement on Mapulator?

Mapulator offers several different units of measurement for distances, including meters, feet, kilometers, miles and nautical miles. Kilometers and miles are often used for measuring longer distances, such as the distance between two cities. Nautical miles are typically used for measuring distances at sea.
What are different units of area measurement on Mapulator?

There are several different units of measurement for area, including square meters, square feet, acres, hectares and square miles the app supports. In addition, we add more local measurement units every now and then to make it more convenient.
What are the different types of maps?

Mapulator offers three map types: Satellite, Roadmap and Terrain.
What mapping tools does Mapulator offer for measurement?

Mapulator provides user-friendly tools for accurate measurements: Draw, Tap, Plot with Scope, GPS Live and Coordinates.
What is the cost for Mapulator?

Mapulator is a free area measurement app for basic distance and area calculations, with all measurement tools available at no extra cost. Additional features, such as collaboration and address search, are offered in Lite or Pro plans. Visit the pricing page for details.
Can you measure distance on Google Maps?

Mapulator uses Google Maps and Apple Maps as the map providers, and hence it supports distance measurement on Google Maps. Please read more here Measure Distance Using Google Maps which explains map measurement process.​
Need to Survey Land or Calculate Area?

If you need to survey land or calculate the area of your property Mapulator can be a useful tool. It works as a map calculator and acre calculator, allowing you to quickly determine the size of your land in acres. Additionally, if you need to measure distance then the Mapulator app serves as a map distance calculator, enabling you to measure the distance between two points on a map accurately. The app also provides various modes of map with distance calculator.

Furthermore, the Mapulator app can be used as a map Google distance calculator to obtain more precise results. It also functions as a distance mapper, allowing you to create a visual representation of distances on a map. This app is a valuable tool, particularly for architects, engineers, real estate agents and anyone else who needs to measure distance and area accurately. By using the Mapulator measure distance tool, you can make your work more efficient and effective while ensuring that your calculations are always accurate.